Leonard Woolsey, president of Southern Newspapers, Inc. (SNI) and president and publisher of The Galveston County Daily News, is Editor & Publisher's 2023 Publisher of the Year. Woolsey accepted the award from E&P's Publisher Mike Blinder and Editor-in-Chief Robin Blinder during America's Newspapers' Senior Leadership Conference in Chicago — where Woolsey also learned he'd been elected vice president of America's Newspapers.
Woolsey is also the past president and current chairman of the Texas Press Association.
Donnis Baggett, executive vice president at the Texas Press Association, told E&P, "When [Leonard] took office as president, during his acceptance speech, he said, 'I don't know how you feel out there, but I think it's time that newspapers got a little of their swagger back.' That lit up the room; it really did. That optimism, that can-do spirit was like a spark kindling a fire."
After collaborating with Woolsey on legislative initiatives, Baggett admired Woolsey's talent for advocacy. "He's a dynamic, off-the-cuff speaker and comes across well in a hearing room when legislation is being heard," Baggett said.
"Southern Newspapers is a shining example of how to run a company, in my opinion, and I think most people in our industry would agree with that. … They chose the right guy for this generation of management," Baggett said. "He's one of my top-five favorite people I've met in 50 years in this business — just a jewel of an individual."
A calling to news
"This started at the kitchen table when I was a little kid," Woolsey traced his interest in news to his childhood. "My mother was an immigrant. She grew up in Scotland, and when she was 21, packed a suitcase and a one-way ticket on a steamer. She came to the U.S. because she wanted to have her children in America, be part of the American dream and support democracy. She read the paper to us every morning at the kitchen table.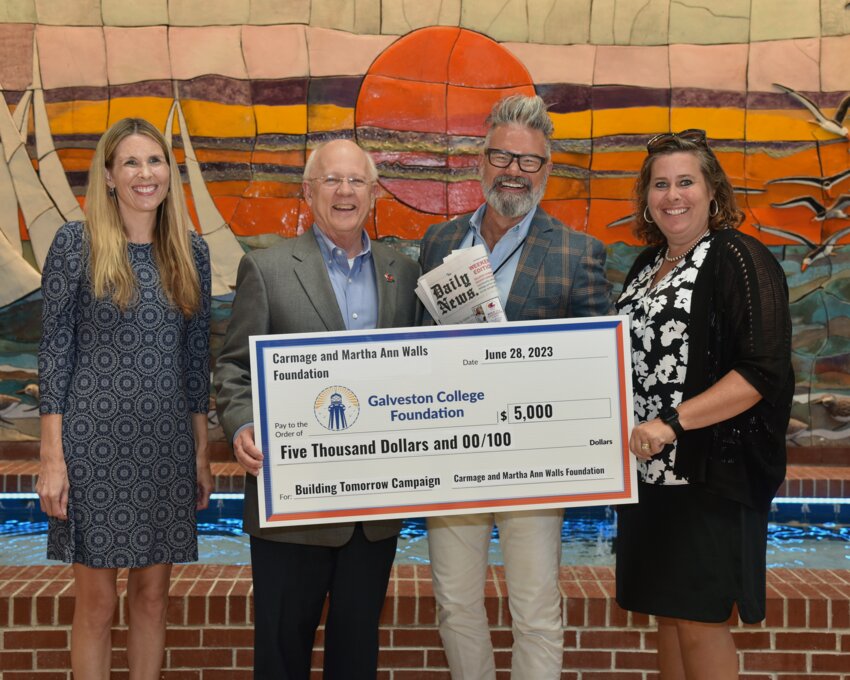 "To me, the newspaper was the authority on the world. We always held it in such high esteem. She would preach to us about democracy and why America was wonderful and the best place in the world," he said. After college, he went to work for a newspaper.
"It was more than a job. It was a calling, and I think maybe my mother embedded it in my DNA somehow," he said.
Michael Gebhart, now the president and CEO of Southern Community Newspapers, hired Woolsey early in his career, recalling that he was "a star in the making."
"Leonard helped me learn that a key to good management is to surround yourself with good people," Gebhart told E&P. "I was blessed to have accomplished that by having Leonard on our team. He made everyone better."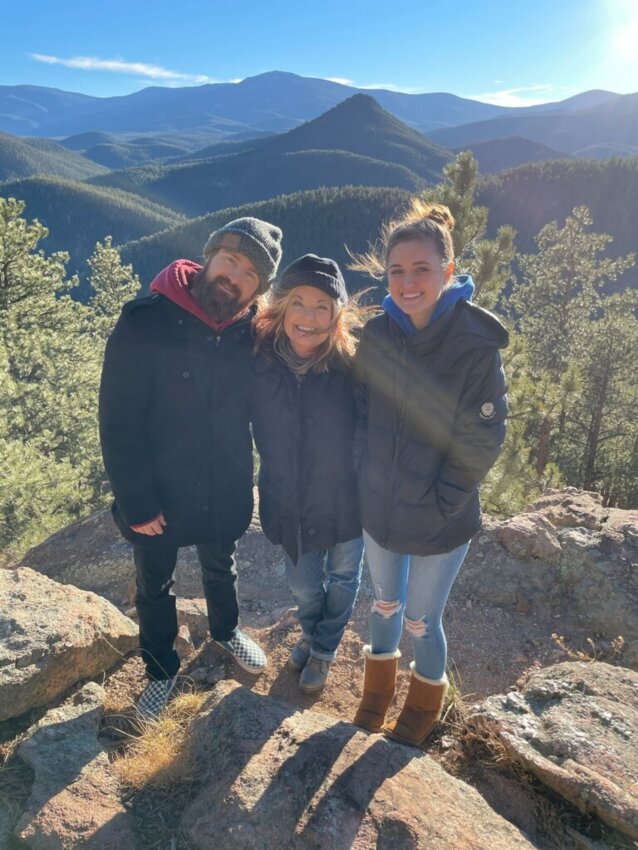 From 1995 to 2014, Woolsey served in various roles for Paxton Media Group, including president and group publisher for several Atlanta-market titles.
"Even though I came up on the advertising and revenue side, that's just the skillset I bring to the table, but I have so much respect for and fight tooth and nail to protect our journalists and editorial teams because that is the show," he said.
In 2014, Woolsey was recruited by Southern Newspapers. At the time, Dolph Tillotson was president (he is now chairman), and talent scouting was part of his role. He'd gotten to know Woolsey at conferences and spent several years seeking him out at events or when he was passing through Georgia.
"There were two or three things that stood out about him," Tillotson said. "He has really good knowledge of the newspaper industry and our business. He had great insight into advertising, sales and marketing. But he had other intangible things beyond that, one of which was that he's really creative."
Woolsey said it felt like being drafted by the Astros. He didn't know much about Galveston — let alone that it was an island. His wife is a native Texan, so she was excited by the prospect of his new role as publisher of The Daily News. He discovered the newspaper was the oldest in the state, with a rich history of family ownership.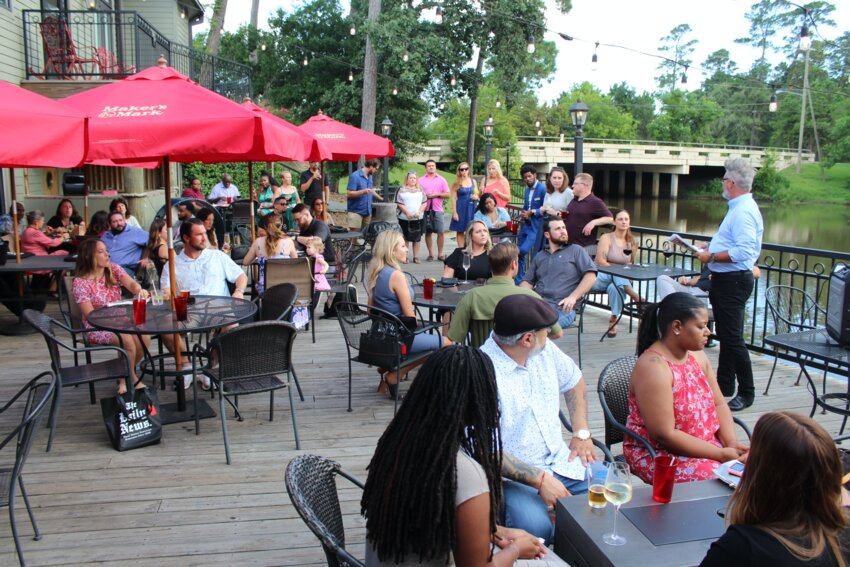 "It means so much to the community and the state, and it was now my responsibility to see it forward. It has a long history of editorial excellence," Woolsey said.
In 2019, he was appointed president.
He's read a lot about Steve Jobs and owns a poster with a Jobs quotation: "Let's go invent tomorrow, rather than worrying about what happened yesterday."
"What that means to me is that you can recognize and acknowledge that you have a situation, but the sooner you quit whining about it, the sooner you can find something to make from it and find a way forward," he said.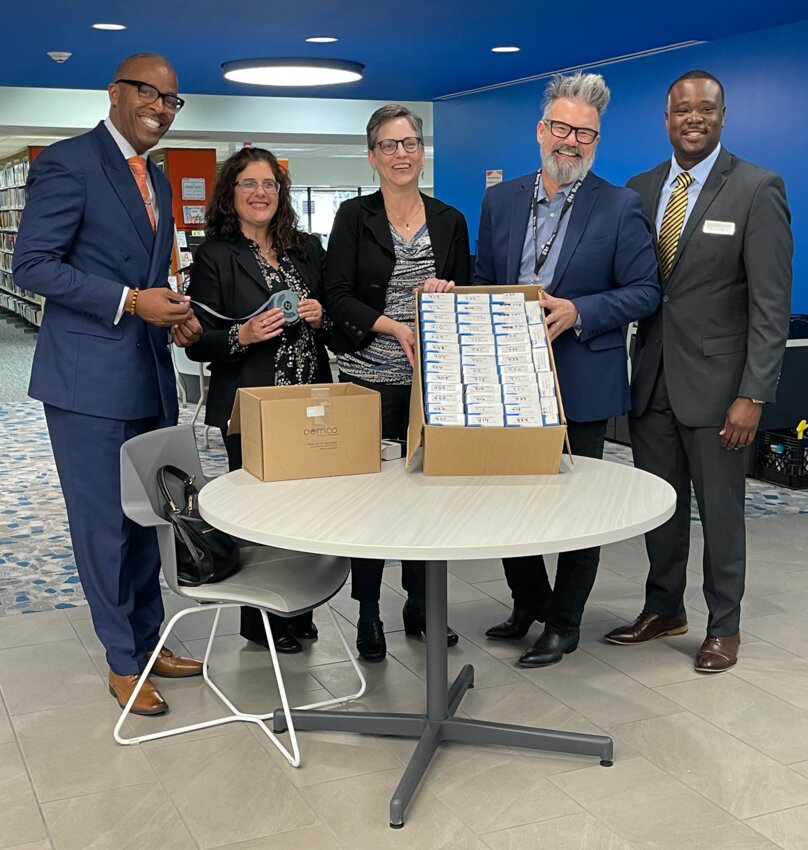 Lissa Walls Cribb, Southern Newspapers' CEO, reflected on hiring Woolsey. "Leonard first appeared on our radar when he made presentations on generating revenue, hiring and retaining people at what was then SNPA meetings," she told E&P via email. "We were so impressed with him that we asked him to present at our company's annual revenue meeting. Not only were his presentations excellent, but he also 'fit' with our group of publishers and sales directors.
"Leonard in 2014 was very much the Leonard of today," she continued. "He is a highly engaged operator with deep knowledge of all aspects of operating a newspaper, a leader inside and outside the building, and a strong value system in sync with the SNI leadership. He leads with a steady hand, an open mind and a servant's heart. He supports his colleagues with humor, integrity and courage."
Walls Cribb lauded Woolsey's leadership during COVID-19 as one of his greatest accomplishments.
"Our industry is in desperate need of people who share Leonard's belief in the critical role newspapers play in the communities they serve and his dedication to developing a viable, sustainable business model to ensure that role continues," she said. "He is realistic about the challenges but optimistic and determined to find the answers. … He is simply a talented executive, a valued colleague and a treasured friend." Woolsey's respect for her leadership is mutual.
Southern Newspapers has seen significant gains in digital audience. They've resisted the temptation to undervalue subscriptions with churn-inducing entry offers. "Instead, we're trying to build a healthy model for subscriber revenue," Woolsey said.
Print endures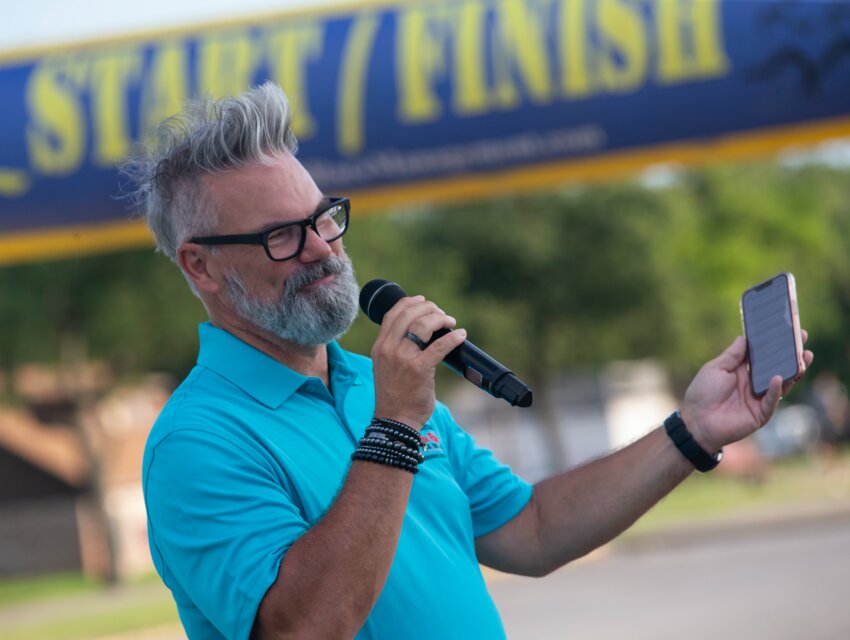 "The future is digital," Woolsey said. "But that doesn't mean the future is without print. Print will always be a powerful tool to move people to make decisions and to think critically." On his return flight from Chicago, he noticed the four people seated around him, in their 40s and 50s, he estimated. Woolsey is 61.
"Four of us were reading. One had a Kindle, and three of us had books. There is still power in print. Print means something. It's tangible. We react emotionally to it — like standing before a painting that suddenly speaks to you."
"The Daily News has a larger audience than it ever has in the 181-year-old newspaper's history because of its digital products and our print products," he said.
Southern Newspapers is preparing for a post-cookies era. "We still have cookies for now, but the cookie will crumble. Those of us building strong war chests of first-party data will be in a better position," Woolsey said.
Yvonne Mintz is editor and publisher for The Brazosport Facts and vice president of content and ethics for Southern Newspapers. She's been with the company for 26 years and said Woolsey is "a fantastic collaborator."
"He gives us all a chance to present our views and is open to changing his mind if we have a great idea. But when he feels very strongly about something, he digs in and helps you understand his way of thinking — but not before hearing you out thoroughly. And that's something that I really admire in a leader," Mintz said.
She also appreciates how Woolsey keeps journalism top of mind. "I think it's so important for editors to have a seat at the table when it comes to business decisions," she said.
The lifelong student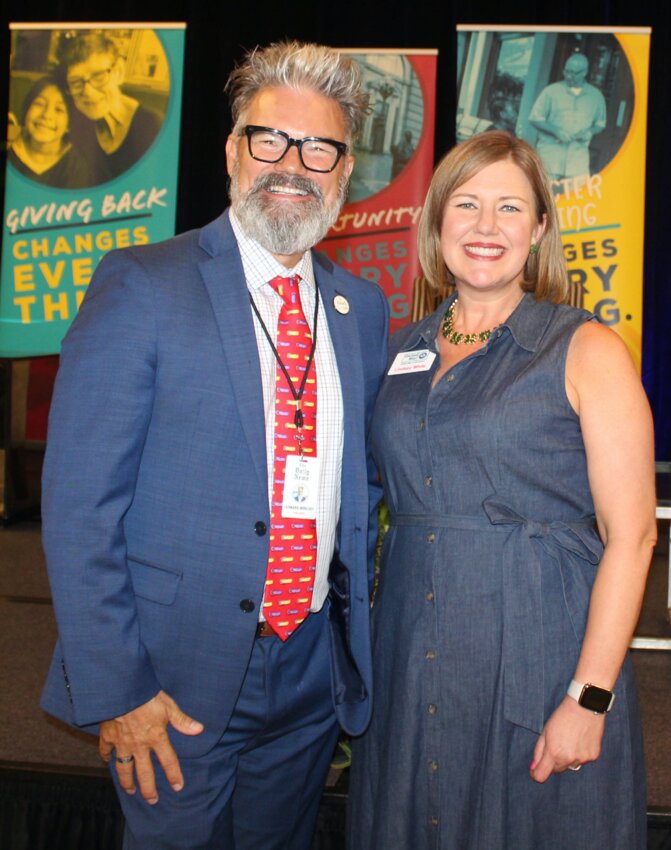 When people who know Woolsey describe him, inevitably, they use the adjective "optimistic."
"I find you can either dwell on the pain, or you can find a way forward — and believe that you'll find a way forward," Woolsey said.
He also believes it's his role to enable those around him to be successful and attain their professional goals.
"I have grown as a manager, a leader and a person because of the quality of the people here at this newspaper. … I care about them and want the best for them," he said.
"They're looking to me to make the right decisions, to guide the newspaper, to make the right financial decisions, to make the right strategy decisions and also to recognize them as people, not just as employees," he said.
Woolsey also cares about the community and finds his editorial columns keep him in conversation with the public.
"He understands the importance of newspaper editorial pages and what they can mean in a community if they're strong, vibrant and courageous," SNI's Tillotson said.
His columns inspire comments from the community, on the website and social media, and in more personal settings, like the grocery aisle. He hopes the editorials help connect people through their shared experiences.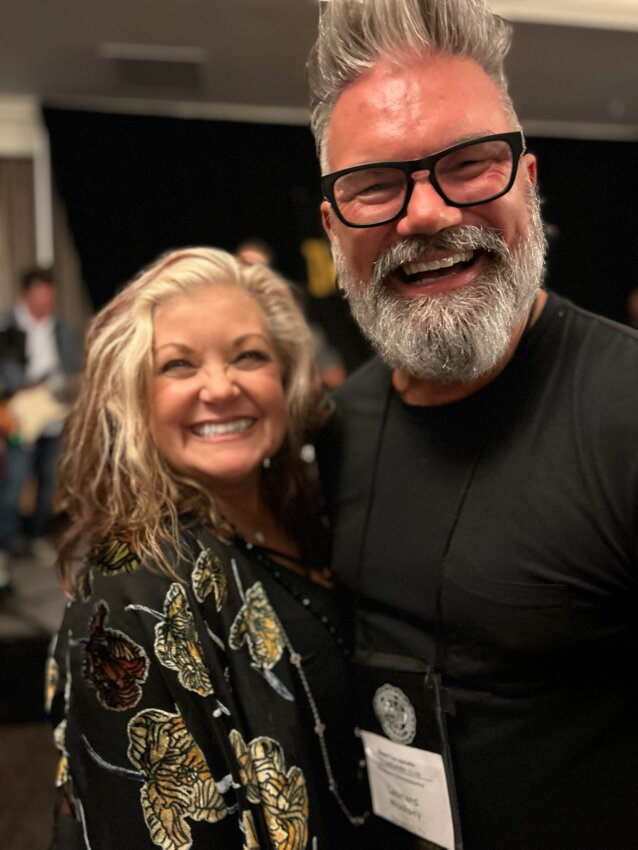 Woolsey's college sweetheart and wife of 43 years, Maryrine, encouraged him to compile his columns in a book; they now total three volumes.
The couple has two adult children — a son and a daughter. Woolsey exudes pride when he speaks of their character and accomplishments. His family keeps him humble and laughing.
"They're proud of me, but I promise you, in their universe, I'm just goofball dad," he said.
One of Woolsey's favorite pastimes is skateboarding. In the late 1970s/early 1980s, he competed in the sport. The experience allowed him to travel and see the country. He said the pinnacle of his competitive skate career came when he was invited to perform some tricks for Hollywood icon Adam West at a Kansas City Auto Show one year. As a kid, he'd been obsessed with Batman and recalled precisely how West approached him at the event — emerging from a crowd, his sports coat casually flung over his shoulder.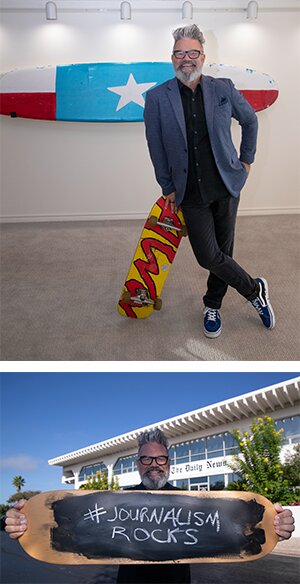 Afterward, West told him he'd done a good job and signed the bottom of his skateboard. Back home, his mother insisted on putting clear tape over the autograph to protect it. Woolsey still has the skateboard.
He's also a surfer and, for many years, a cyclist. He recently retired his bike in favor of a new interest. He's learning to play guitar. "I'm the best guitar player in this small little room in the top corner of the house," he said.
In his 40s, he learned to play the piano.
"Music is a fun experience. It's another language to learn," Woolsey suggested. As you go through life, there are so many cool things to do. … Life is too short not to unpeel all the layers out there."
When you speak with Woolsey, you sense he's future-focused.
"One of the theories in the book 'The Tao of Pooh' is about water running downstream. It doesn't matter how big the boulders are in the way; it finds a way to go over it, around it. The Eastern philosophy suggests that progress will find a way. Sometimes it is not obvious. Sometimes, water has to go under the rock; sometimes, it goes around to the left or the right.
"I read that book in the 1990s, and it changed how I view the world. If there's a big boulder in front of me, I focus on how to get around it," Woolsey concluded.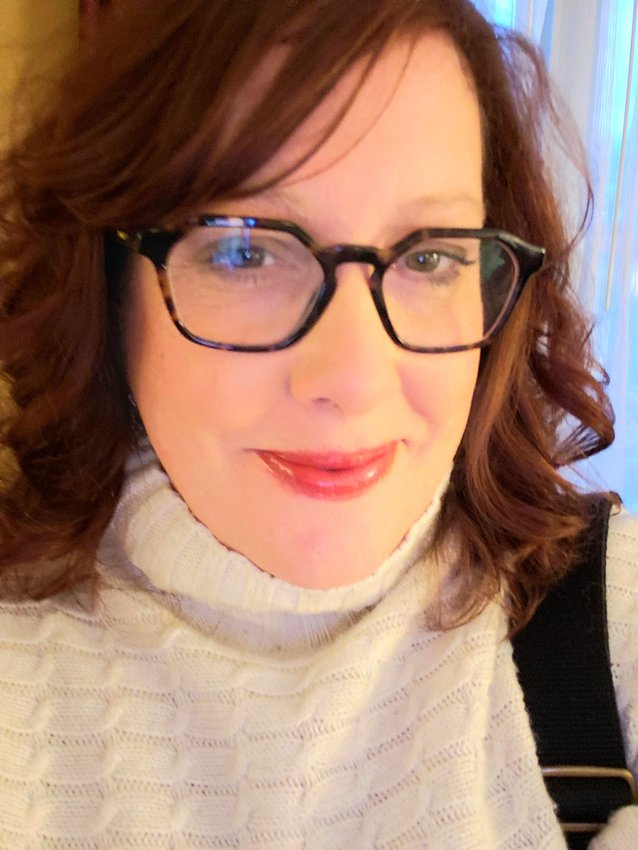 Gretchen A. Peck is a contributing editor to Editor & Publisher. She's reported for E&P since 2010 and welcomes comments at gretchenapeck@gmail.com.