Weary… That's the only way I can describe my feelings this morning as I read and listened to the report that the voting rights bill has been defeated in the Senate. I don't get it. I have always believed in my heart the words of John F. Kennedy when he said, "The rights of every man are diminished when the rights of one man are threatened." Well, in today's America, rights are being threatened. And for what? Pure and unequivocal power. When I found the images featured in our "From the Archive" — the photos of the Birmingham News' mobile newsroom covering the Selma to Montgomery march on March 7, 1965, all I could think was that, more than 50 years later, we're still fighting to make sure that everyone can exercise their Constitutional right to vote.
My husband, Publisher Mike Blinder, always tells me that our Constitution is "a perfect document written by imperfect men." For all of us who still honestly believe in our Constitution, you'll want to read our cover feature, "Anti-boycott laws run afoul of the free press." This feature details Alan Leveritt's fight, with the help of the ACLU, against an obscure anti-BDS law that the state of Arkansas is using to pressure those who want to do business with state entities to sign a pledge which is, at its core, support of Israel. No matter your political or religious leaning, this type of legislation is clearly a crack in the wall that is our Constitution. And as we outline, this is one in many state laws that are insidiously pressing agendas into our lives, and in doing so, usurping our Constitutional rights. Awareness is the first step in this crucial fight to protect them.
Be assured that we at E&P won't back down from telling the stories that block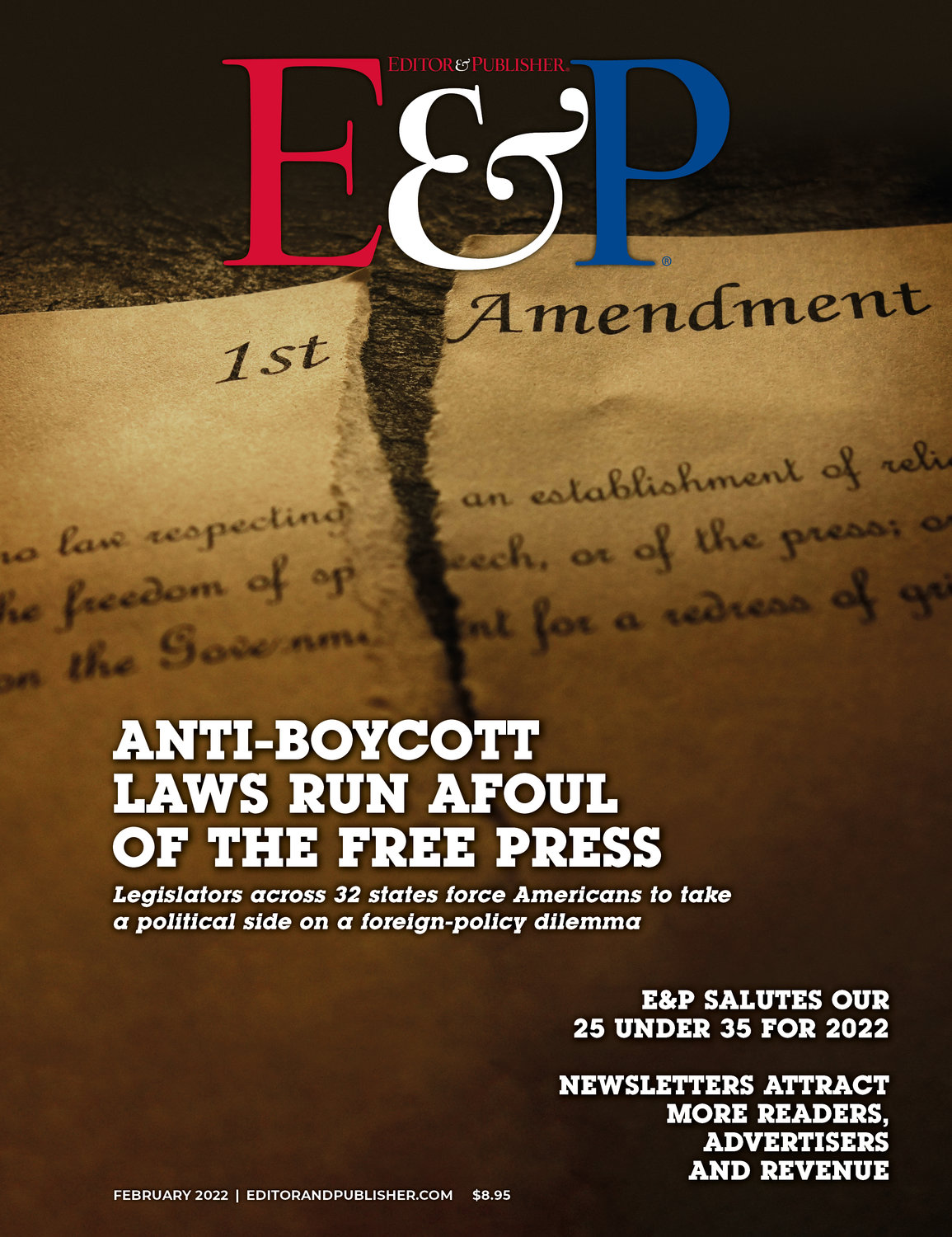 our way to the free and unfettered press that is guaranteed in the First Amendment to our U.S. Constitution. We won't always agree about the stories, but the right to tell those stories must be protected.
On a lighter note, our "Revenue Round-up" feature about newsletters highlights how a tried-and-true vehicle gives publishers new ways to attract readers, advertisers and revenue. Our "News Publishing" column features digital tools and hacks for journalists. And our "Diversity Spotlight" column offers several resources to help you check your biases when interviewing for new talent.
Speaking of talent, E&P's 2022 class of "25 Under 35" is brimming with talent, strength and ability. Each and every award winner brings uniqueness and inspiration to our industry. It helps me to believe in the state of our industry and — as an extension — the state of our country. These young men and women will take us through our current and future challenges, meeting them with thoughtful solutions and determination.
As always, we at E&P welcome your ideas, questions and comments. We're weary, at times, but we're also uplifted knowing that you, our readers and advertisers, are out there "fighting the good fight" with us. We can't let up as long as "the rights of one man are threatened."
Robin Blinder is E&P's associate publisher and vice president of editorial. She has been with E&P for two years.