Word came this week that the spending bill — the Build Back Better Reconciliation bill — had a new casualty, the Local Journalism Sustainability Act (LJSA). The LJSA promises much-needed relief for news publishers struggling to adequately staff their newsrooms and cover all the local stories deserving of journalists' and the public's attention.
The news that the relief they were hoping for might not come was daunting for news publishers across the country and frustrating for the advocates who'd worked so hard to plant the seed in Congress.
In Oregon, newspaper publisher Pamplin Media Group decided to take a stand. On Wednesday, November 3, the Pamplin Media's newspapers, including the Woodburn Independent, published a mostly blank front page with a simple line of copy: "What if there were no local reporters?" It was a stark reminder to readers of what's at stake for the newspaper and their community.
Editor & Publisher spoke with Brian Monihan, vice president, and Mark Garber, president and publisher of Pamplin Media Group via Zoom, about their LJSA advocacy and whether they were surprised that the legislation had been cut. "Not necessarily surprised, but disappointed certainly," Garber said. "The cost is such a small piece of the overall package." The bad news merely motivated them.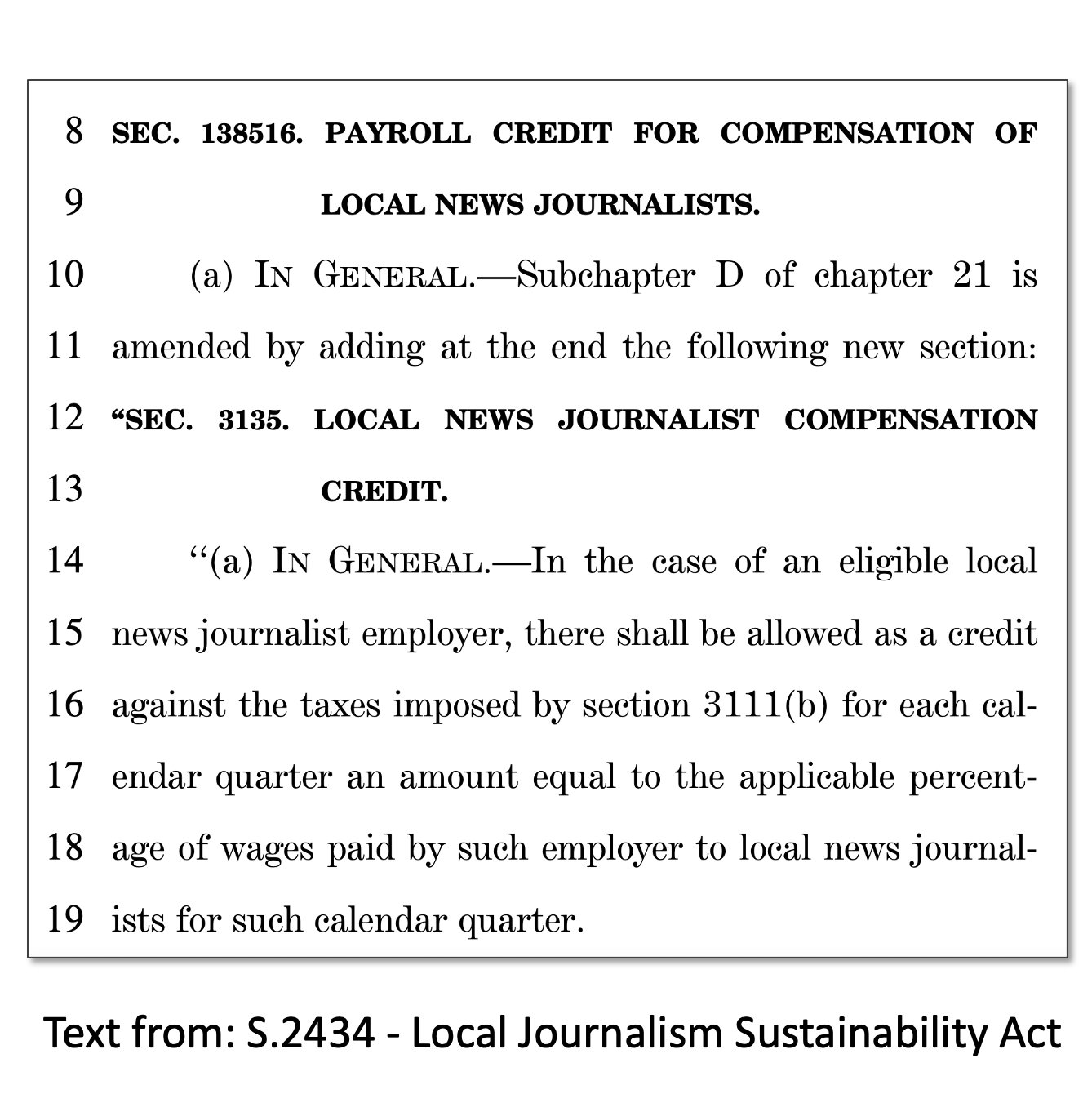 No more than 24 hours later, the LJSA was reportedly back in the spending bill and one step closer to a vote that's expected to come around Thanksgiving, according to two Congressional insiders.
Congresswoman Ann Kirkpatrick (D-AZ), who introduced the LJSA in the House in June, offered her perspective about its reintroduction: "The payroll credit for local newsrooms included in the current Build Back Better framework will go a long way in meaningfully preserving the important place that local news has in our community. We must keep working hard to ensure that this provision stays in this bill and makes it all the way to President Biden's desk. I have heard from so many who work to keep the grassroots, local news industry alive, and I'm grateful for their continued support as we push forward with this historic legislation," the Congresswoman told E&P.
One of the remarkable things that Representative Kirkpatrick did on behalf of the LJSA was to build a coalition of 61 co-signers, including 14 House Republicans.
Despite bipartisan support, Congress already wielded an axe to some legislation that could've been quite popular with small businesses and even the public. Previous drafts of the LJSA offered tax credits for small businesses to advertise in local news outlets and to the public, who could use a little extra incentive to subscribe to their local newspapers. By the time the Senate took it up, what remained was the most critical part of the Act — tax credits to help staff the nation's newsrooms.  
"To me, this bill is all about that tax credit to bring in more journalists and the impact that can have in our communities," Monihan said. "Yes, we'll be able to cover the big important stories, but we'll also employ journalists who can cover City Hall, or what's happening in the schools and classrooms, or high-school football games. It's about putting out stories about veterans who served, which we'll be doing for Veteran's Day next week. These are the kinds of stories that help build and create community."
"That kind of coverage is going to go away when community newspapers don't exist anymore, and how sad will that be? What happens to our communities when this coverage isn't there," Monihan said.
Heed the call
News publishers shouldn't exhale just yet.
With its blank front page, Pamplin Media hopes to inspire other newspaper publishers across the nation similarly to show their support and need for the legislation, if not running a blank front page, then perhaps a front-page editorial — anything to urgently grab the public's and Congress' attention. At least two other publishers had committed to running blank front pages.
"When I saw our papers coming off the press this morning with that blank front page, it was really impactful," Monihan said. "We hope people will realize that if you don't at least try, you'll regret it. If we can rally together, maybe we really do have an opportunity to change some minds (in Congress)."
Senator Ron Wyden (D-OR) is one of the LJSA's champions in the Senate; his father was a journalist. E&P reached out to Senator Wyden's office for comment when it appeared the LJSA would be cut out of the bill. Through a spokesperson, he encouraged news publishers to be tenacious and said, "It's so good to see grassroots support for local news."
Congresswoman Kirkpatrick tweeted on Thursday: "We did it. With the advocacy of newsrooms and readers around the country, we got our Local Journalism Sustainability bill language in #BuildBackBetter. LOCAL journalistic endeavors must continue — the work to help inform our communities is vital."
What the news industry needs right now is resolve, Pamplin Media's Garber concurred. Asked if he believed readers would respond to the blank front page and be inspired to contact their Representatives to keep the pressure on Congress, he felt certain they would. "They always have in the past," he said. "But we need to sound this rallying cry to help get this over the finish line. We can't lose everything. We can't lose all the work that's been put into this already."
Monihan and Garber credit Dean Ridings, America's Newspapers' CEO, and Francis Wick of Wick Communications for their unflinching advocacy for the LJSA.  
The work is not over, according to Ridings, who said, "The LJSA is back in the Build Back Better Budget Reconciliation bill, and that is absolutely great news! However, it is important for publishers to continue to let their members of Congress know that they are appreciative of the support and that we need to maintain that support to keep the LJSA included!"
"Please reach out to your representatives in Congress, and ask them to support the bill," Pamplin Media's Monihan implored his professional peers.
Members of Congress are preparing to head to their home states for a workweek, and this timing acts in our favor, he suggested.
"If all these Senators are home for a work session next week, and suddenly they get their local paper, and it's got a blank front page on it — or perhaps an editorial talking about the need to support this — what a great statement to make," Monihan said. Should the vote come right before the holidays, it would be "a nice little present to the country," he concluded.
Publisher's Note: Please consider joining Pamplin Media Group in making a stand next week while members of Congress are in their home districts. We at E&P ask you to join with us in reaching out to your Congressional representatives. We want to hear what you're doing to push for the LJSA in your local market.
Gretchen A. Peck is an independent journalist who has reported on publishing and journalism for more than two decades. She began her reporting career covering municipal government at a suburban Philadelphia daily and also served as an editor-in-chief/editorial director for a magazine publisher. She has contributed to Editor & Publisher since 2010 and can be reached at gretchenapeck@gmail.com.