Gannett mandated five days unpaid leave for employees, offered severance for voluntary resignations and suspended 401(k) matching for the employees remaining at the country's largest newspaper publisher two months after it laid off 3% of its workforce.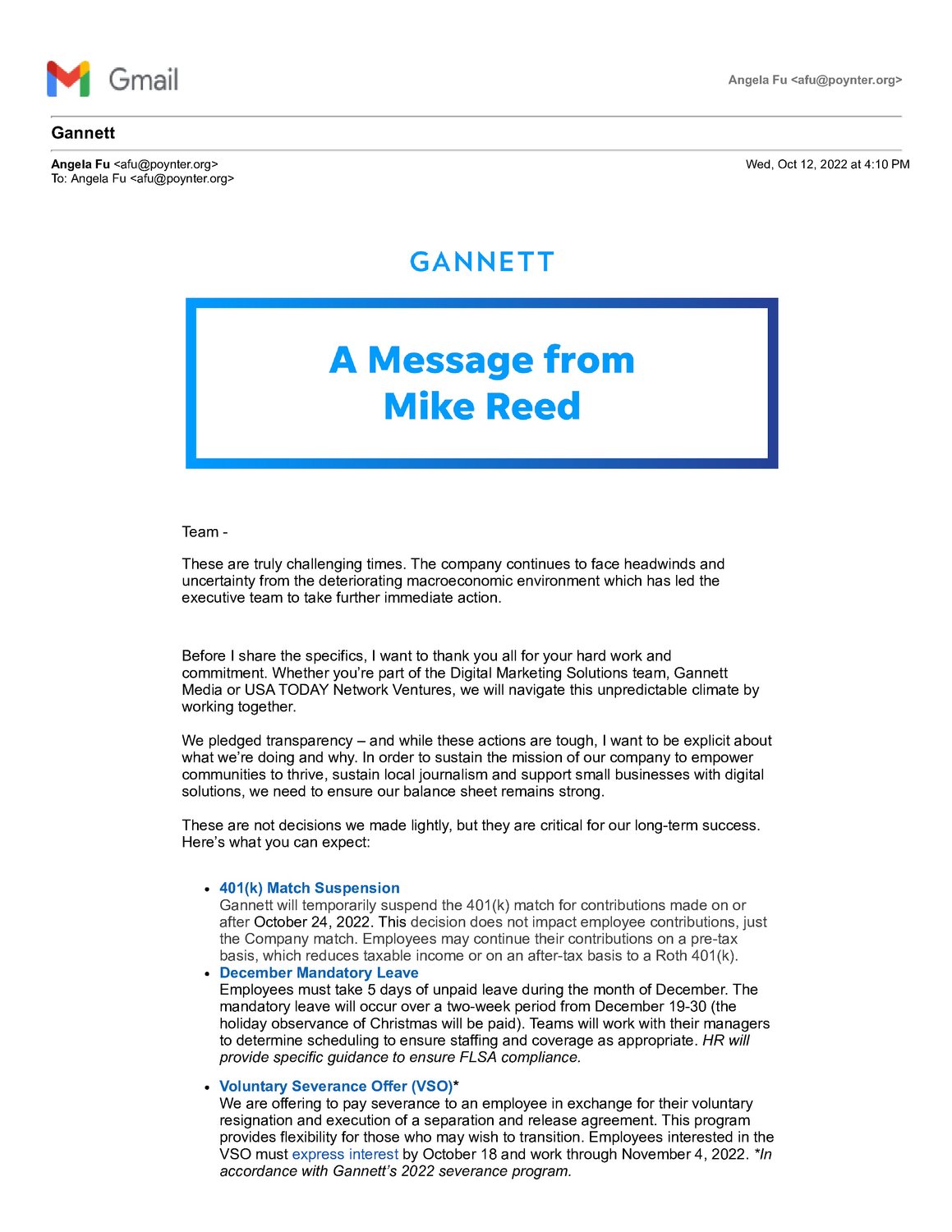 CEO Mike Reed sent an email to staff Wednesday announcing the changes. "Team - These are truly challenging times," the email began. "The company continues to face headwinds and uncertainty from the deteriorating macroeconomic environment, which has led the executive team to take further immediate action."
The company laid off about 400 employees beginning Aug. 12 and told staff they would not fill 400 open positions. The announcement came after Gannett said it lost $54 million on revenues of $749 million in its second-quarter report.
"We pledged transparency – and while these actions are tough, I want to be explicit about what we're doing and why," Reed wrote in his Oct. 12 email. "In order to sustain the mission of our company to empower communities to thrive, sustain local journalism and support small businesses with digital solutions, we need to ensure our balance sheet remains strong."
The email detailed the measures, including an option to work fewer hours for a 20% pay cut while maintaining full-time status and an option to request an unpaid sabbatical for one to six months. The email said employees who take a sabbatical can maintain health insurance coverage while continuing to pay premiums.
The email also said it would pause hiring "with the exception of key revenue and operating roles as well as positions deemed critical."
The suspension on 401(k) matching begins Oct. 24, and employees may continue to contribute to a 401(k) to reduce their taxable income. The mandated five-day unpaid leave will be required during a two-week period between Dec. 19 and 31. The Christmas holiday will be paid, the email said.
Employees interested in the Voluntary Severance Offer must express interest by October 18 – less than a week after the announcement – and work through November 4.
"This is a lot to process," Reed wrote in the email. "This mix of temporary and permanent actions allows us the near-term flexibility we need to drive improvement while preserving our ability to quickly pivot as we see the economy and areas of our business progress."
Reed wrote that he understands the decisions "take a financial and emotional toll but mitigating these economic pressures now will benefit Gannett's future."
He concluded the email by offering "sincere gratitude" for the work of his employees.
Kati Kokal, an education reporter for The Palm Beach Post, wrote on Twitter that employees learned about the decision in a meeting that lasted less than 15 minutes.
"No details. Very little info on the timeline. I think most of us are either speechless or swearing [right now]," she wrote on Twitter.
The Palm Beach Post is one of more than 200 newspapers owned by Gannett.
Kokal was one of about 200 journalists who attended a virtual rally on October 6, where members of Gannett's unionized newsrooms said the company is threatening democracy with its cuts. Economist Tony Daley said during the rally that Gannett "massively cut employees while going into debt and bleeding money, but doles out tens of millions to top executives and bribes its shareholders."
Gannett issued a press release on Oct. 5 saying it has and will continue to "aggressively" pay down its debt, with $130 million repaid so far in 2022 and $585 million repaid since November 2019.
Meanwhile, unionized journalists said in the rally that many of them are not paid enough to live in the communities they serve.
"We shouldn't be so threadbare that sources talk to us like we're chumps," one journalist said during the virtual rally. "Your shirt needs to be dry-cleaned if you're interviewing the mayor."
Gannett did not immediately respond to a request for comment.