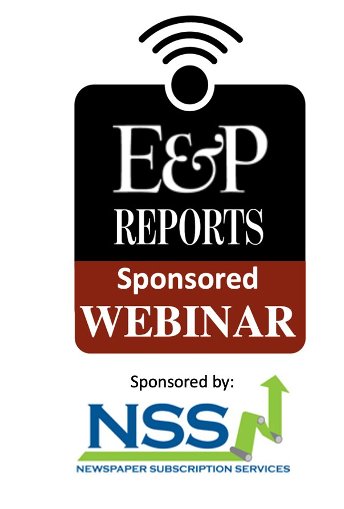 Now that more newspapers have added an online presence to their business model, automating their interactions with subscribers using various digital tools is the next advancement to help gain and retain more of those subscription revenues.
The story of how two newspapers are using automation technology to their advantage was the focus of the October 27, 2021, Editor & Publisher Webinar hosted by Publisher Mike Blinder.
Phil Schroder, senior director of engagement & loyalty at McClatchy, and John Quaintance, VP circulation at Six Rivers Media, described their experiences with these automated, turnkey systems from the contrasting perspectives of a large newspaper company and a local, family-owned group of five publications in northeast Tennessee.
McClatchy has a large subscription base to serve, retain, and focus on gaining new subscribers with multiple publications and online destinations. However, as its competitors and the public have embraced the digital age, McClatchy needed to automate its subscription system to make the process easier and quicker for everyone.
"We've been using various automated systems for several years, including a subscriber management email system," said Schroder. "In total, we have 60 different customer touchpoints, from when they first start a subscription through their expiration and grace periods and afterward. We are using emails, automated phone calls, billing emails and even SMS text messaging."
For a much smaller operation like Six Rivers Media, automated, turnkey systems are just as important to maximize the number of subscribers and the revenue they generate. Retaining as many of the newspapers' subscribers who pay the highest rate helps the group maximize weekly cash flow, which is particularly critical for smaller, local papers.
"We needed subscriber retention support and a company to help us create a subscription management email system similar to McClatchy's," said Quaintance. "That service provider had to offer a system scaled to our size, that didn't require much of our limited staff's time and at a low price."
Both McClatchy and Six Rivers Media were able to find multiple solutions by partnering with Newspaper Subscription Serrvices (NSS) and engaging with Lon Haenel, VP/chief client officer, who was also a Webinar guest.
"The newspaper industry has had a thirst to fill various niche gaps, especially using more automation to retain more subscribers and maximum revenues," said Haenel. "We are constantly asking our customers what they need and want and their challenges. Based on their input, we've developed optimization, personalization, SMS text messaging and other tools and systems to address their real-world needs."
"NSS has been helping us for years, but we weren't happy with our current landing pages from another vendor," said Schroder. "NSS was able to create a simpler process. It is very popular with our staff because less of their time is required. NSS has helped us succeed with its systems to harness the power of automation."
Schroder added that his team created and automated subscriber emails with another provider's system it already had in place. Still, now he can push all the data into the NSS landing pages and create various campaigns, from A/B testing to the data flowing back into the subscription system.
Six Rivers Media also turned to NSS for landing pages and then to implement a subscriber management email program, which provides each subscriber with a dedicated page to manage their subscriptions.
"Compared to last year, our start/stop percentage has increased by 10%, and we've almost doubled our Web starts. By being able to touch each customer multiple times with the help of NSS, we reduced our total expenditures on discounts by $50,000 YOY," said Quaintance.
Both Schroder and Quaintance have discovered they can add and integrate additional NSS tools and systems to reach customers with more personalization. For example, Schroder said NSS created a simple payment page, reducing the login requirement and multiple customer steps. The page is put on every subscriber bill. During a two-month period, more than 2,000 payments have come through the page.
For Quaintance, adding SMS text messaging is an additional layer of personalized customer contact leading to more subscription retentions. Any complaints or subscriber feedback Six Rivers Media receives are also automated and routed to the correct manager for resolution.
"We've entered an era when a newspaper of any size can significantly benefit from automation, especially to maximize subscription revenues and retention. Almost every publication has the same subscription journey, and customers expect more personalization," said Haenel. "We make sure the onboarding and integration process is very easy, and implementation and monthly use are free. Our partners only pay a small cost-per-transaction."
For more information about Newspaper Subscription Serrvices (NSS)
Contact:
Lon Haenel
VP-Chief Client Officer
Lon@nsslp.com
608-289-4070