In 1952, Arthur and Morley Ballantine wanted to enter the news publishing industry, and they picked southwest Colorado as the place to do it — purchasing a publication that is now the Durango Herald.
Over the years, the company expanded, adding new titles, video services, digital services, and local phone directories to its publishing empire. And today, their son, Richard G. Ballentine is chairman of the board of Ballantine Communications, continuing a mission of serving the readers and businesses of the region.
Recently, the company announced it was opening offices and hiring staff just 60 miles away, in Farmington, New Mexico, to start a brand new, free tabloid called the Tri-City Record that will print five days a week.
Farmington has a population of 46,000+ and is the largest city in San Juan County (population 120,000). The city has been served by its newspaper of record, The Farmington Daily Times, for over 120 years. However, today that Gannett publication might be labeled by some as a "ghost paper," having dropped their staff numbers to a single reporter to work and serve the entire area.
Ballentine initially explored the venture by bringing in the owner of the nearby Aspen (CO) Times, David Cook. Cook worked as a consultant, meeting business leaders, evaluating reader acceptance and making recommendations on the project's viability. It was later agreed that Cook would manage the New Mexico operation for Ballantine as the Record's new publisher.

In a recent interview, Cook stated, "Forget about state lines. There's no question that the Four Corners region has many economic tie-ins for sure." Ballentine added to that sentiment, saying, "There are increasing connections between southwest Colorado and northwest New Mexico in news topics and advertising needs."
In response to why a new newspaper should enter an area that already has a newspaper in place for over a century, Cook stated, "There were some real gaps in the beat reporting. So I saw a real opportunity. San Juan is the fifth largest population center in New Mexico — and in my estimation … it was slowly becoming a news desert."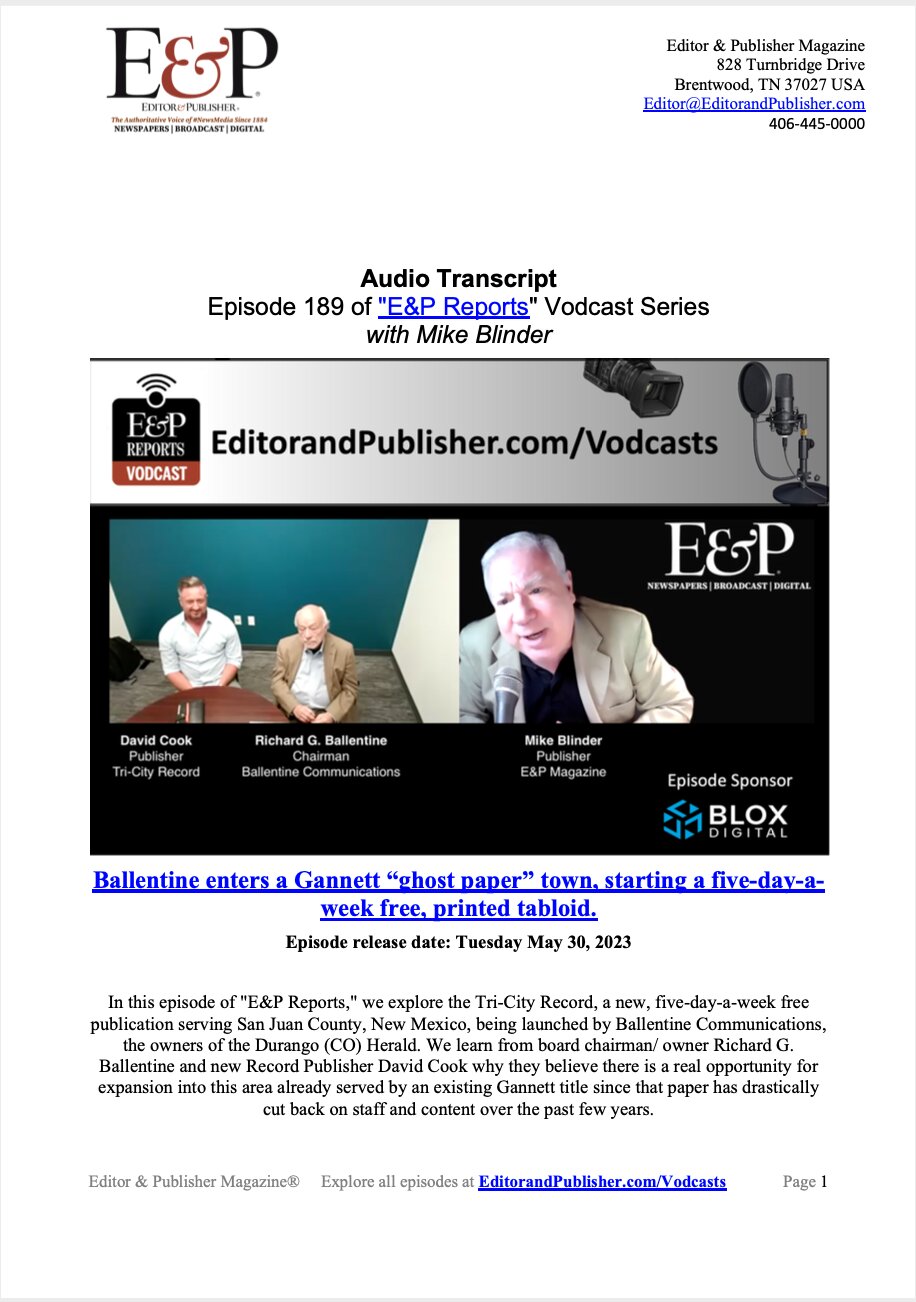 In this episode of "E&P Reports," we explore the Tri-City Record, a new, five-day-a-week free publication serving San Juan County, New Mexico, being launched by Ballentine Communications, the owners of the Durango (CO) Herald. We learn from board chairman/ owner Richard G. Ballantine and new Record Publisher David Cook why they believe there is a real opportunity for expansion into this area already served by an existing Gannett title since that paper has drastically cut back on staff and content over the past few years.