June is a magical month for many — the beginning of summer as the school year winds down, graduations, weddings and vacations. I remember as a kid loving the month of June as the summer stretched ahead of me — carefree and full of fun. It isn't quite the same now that I'm an adult, but the beginning of summer brings back those nostalgic feelings, if only briefly.
This month, we've taken a break from the heavier issues facing our industry to explore how some are working to cover local news with the help of community citizens. I've been really interested in this idea since hearing Andrew Conte, the director of the Center for Media Innovation, at the E&P/360 Media Conference last October in Harrisburg, Pennsylvania. Andrew is excited about exploring ways to preserve and sustain local news — and it's inspiring.
However, not everyone is happy about the idea of "citizen journalists," even the term leads some to fear the watering-down of journalism. In an era of social media influencers and bloggers, sometimes referred to as journalists, officially opening the door to citizen reporters may beg the question, "Who is a journalist?"
I don't have all the answers, but I applaud those in our industry who are trying new things, opening the door for change and chasing what may feel like a dream of sustainable news. I love the attitude stated by Cassandra Etienne, the assistant director at the Center for Cooperative Media at Montclair State University, in this month's cover story. "The idea that you can be part of a community, that you identify with the community, and be less qualified to tell its story, I think, is harmful. … We need to rethink the dynamic between reporters who are trained in journalism schools and reporters who are not but still have valuable contributions to make," Etienne said.
Somewhere in all of this, there is an answer to the dilemmas we're facing today. Whether it's crowdfunding (as in one of our Quick Reads about "9 Millones"), collaboration, volunteer reporters (as in another of this month's stories about retirees filling the void) or citizen reporters, we all must share our findings and work together to build a sustainable news ecosystem. We at E&P are doing what we can to get the word out there from those who are working to find solutions. If you have a solution, study or idea you think we should highlight, I encourage you to contact me directly. We're all in this together.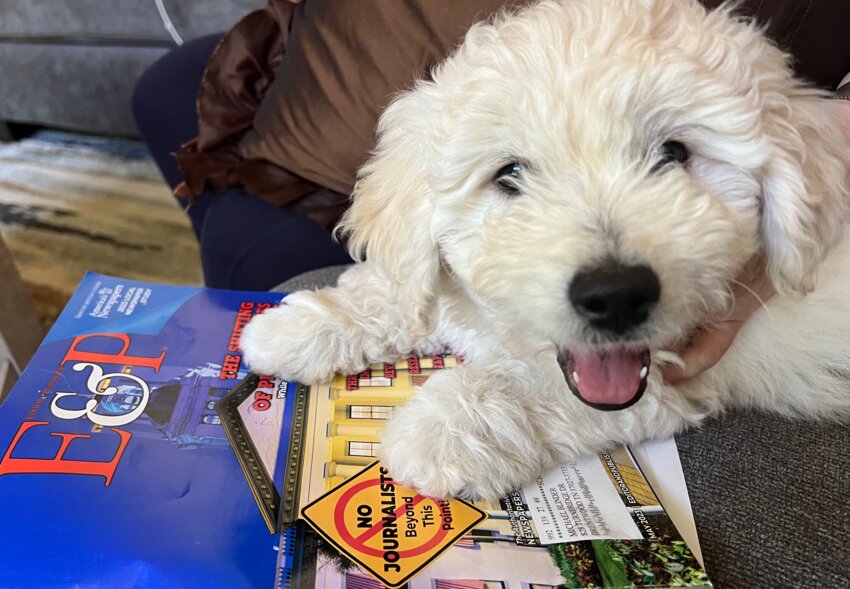 Finally, because we're a very small organization, we all pitch in when and where needed. Our newest addition to the staff is always ready to dive into the next issue — or a previous one. Meet Dolly, our 3-month-old Goldendoodle pup. Her idea of what to do with our magazine is different than I would like, but like all of us, she's still learning.
Robin Blinder is E&P's editor-in chief. She has been with E&P for three years. She can be reached at robin@editorandpublisher.com.