Editor's Note: This story has been updated to include remarks from Sen. Amy Klobuchar (D-Minnesota), sponsor of S.673, the Journalism Competition and Preservation Act.
To the great disappointment of many local news publishers across the land, the Journalism Competition and Preservation Act (JCPA) was cut from the proposed National Defense Authorization Act (NDAA) for the Fiscal Year 2023. Word came on Tuesday from U.S. Senators Jack Reed (D-Rhode Island) and Jim Inhofe (R-Oklahoma) and Representatives Adam Smith (D-Washington) and Mike Rogers (R-Alabama) that the Senate's and House's Armed Services Committees had reached an agreement on the legislative text. But the JCPA was no longer a companion.
The JCPA's potential inclusion in the swan-song legislative package for the 117th Congress is its last and best hope for passage this year. The JCPA is intended to set aside antitrust laws for a finite period of time, allowing news outlets to collectively bargain against the Big Tech platforms — namely, Google and Meta. If the parties cannot agree on compensation for news content in that time, an arbitration panel would decide for them.
In recent weeks, a number of news outlets voiced support for the JCPA.
Vox Media's chief legal officer, Lauren Fisher, penned a mid-November op-ed in which she explained, "Although we've adapted our business to keep up with consumer preferences, Big Tech platforms such as Google and Facebook continue to benefit tremendously from quality publisher content, but don't pay fairly for it based on the value the content drives to their platforms — including audiences and advertising dollars. Publishers have little choice but to play by Big Tech's rules: their ever-changing algorithms are designed to keep audiences consuming content on their proprietary platforms instead of ours, and they sell ads against our content without fairly sharing revenue. Journalism should be an industry that is compensated for the value created and provided. This is in the public interest."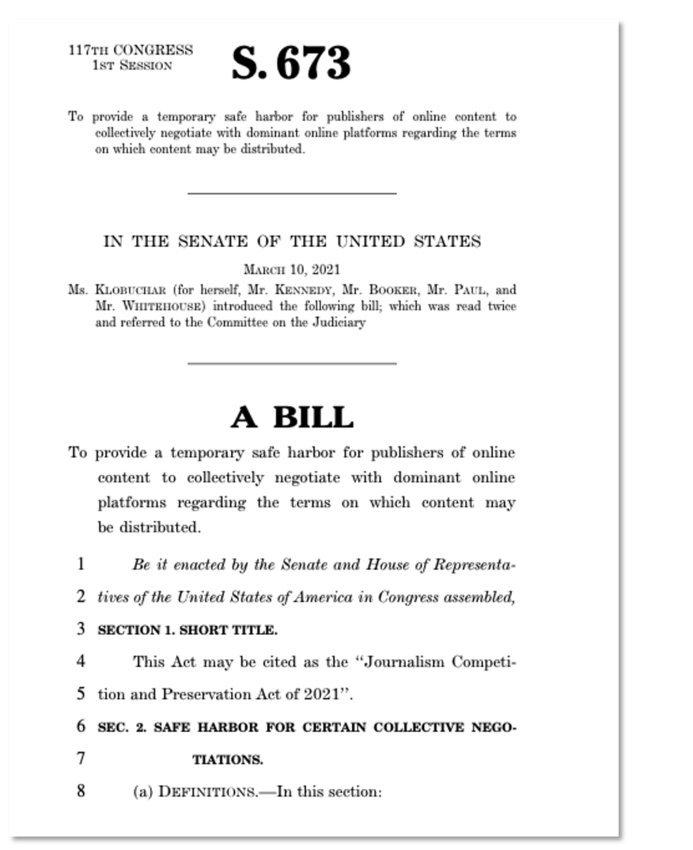 The Seattle Times Editorial Board also weighed in on the JCPA in a November 9th editorial. "The journalism crisis underlies all the other threats to democracy, including election subversion, voting restrictions and false information stoking discord and distrust in democratic institutions," according to the board. "They cannot be resolved without first saving the press."
On Monday, December 5th, Meta's Policy Communications Director Andy Stone warned news publishers that the company might retaliate by censoring news on its platform if the JCPA becomes law. Stone shared Meta's position by tweet, which read: "If Congress passes an ill-considered journalism bill as part of national security legislation, we will be forced to consider removing news from our platform altogether rather than submit to government-mandated negotiations that unfairly disregard any value we provide to news outlets through increased traffic and subscriptions."
That was the same day a group of consumer, trade and civil society advocates sent a joint letter to Congressional leaders arguing against the JCPA — among them the American Civil Liberties Union (ACLU); Free Press Action; the Center for Democracy & Technology; and Local Independent Online News Publishers (LION). They argued several points, including that nothing in the legislation guarantees that the monies ultimately paid to news publishers (through negotiation or arbitration) would be used to pay or hire journalists. The letter also suggests that the JCPA would favor large media conglomerates, which might "dominate negotiations," disenfranchising smaller, independent outlets.
The News/Media Alliance (NMA), a trade association representing thousands of news publisher members, contends that's false. The NMA published a JCPA fact-check list in August, stating, "The JCPA is designed to benefit small and local publishers exclusively. It severely penalizes Big Tech platforms if they do not negotiate in good faith. By design, the JCPA does not allow large newspaper groups to disproportionately benefit through representation, governance, and allocation of funding."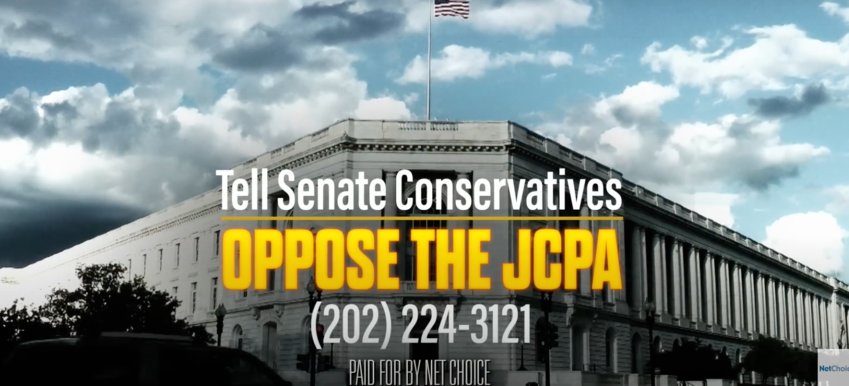 The Washington Post reported, "NetChoice and the Computer & Communications Industry Association, two trade groups that count Google, Meta and Amazon as members, on Monday announced that they were taking out six-figure ad buys online and in broadcast to oppose the legislation amid reports that it was under discussion. (Amazon founder Jeff Bezos owns The Washington Post.)" Within NetChoice's opposition statement to the bill, they state that if the JCPA was passed it would:
Make it more difficult and costly to get and share information from small, local news sources.
Give government bureaucrats influence over information availability.
Provide an antitrust exemption for politically well-connected news media companies.
Further undermine the independence, public trust, and integrity of the media.
Diminish competition by creating a protection from existing antitrust laws for certain news companies and allows them to collude with one another.
Reacting to the news that the JCPA was out of the defense spending bill, HD Media's Vice President of News and Executive Editor Lee Wolverton told E&P, "We are supportive of any effort to bolster the cause of journalism, including all the hard work put into the Journalism Competition and Preservation Act. I don't know what the future of this legislation is, but I do know that the real answer is the one we are pursuing — a remedy in court that will snap Google and Facebook's anti-competitive stranglehold on digital advertising revenue."
In January 2021, HD Media filed a federal antitrust lawsuit against Google and Facebook, charging the platforms with monopolizing the digital advertising market.
"This is a battle that must be fought on every front, and we believe we are battling for the most critical territory. Everyone needs to join us," Wolverton added. "Too many people are standing on the sidelines wringing their hands. Look where that has us. Get in the game, or watch the game end for news organizations here and everywhere."
Northeastern University Journalism Professor Dan Kennedy dedicated the December 7th issue of the Media Nation newsletter to eulogize the JCPA in a column titled, "The JCPA slips back beneath the waves, perhaps never to be seen again."
"I'm going to guess that that's the last we're going to hear about the JCPA because House Republicans oppose it, and time is running out for the Democratic majority to push it through," Professor Kennedy opined. "Maybe this will carve out space for a better bill, the Local Journalism Sustainability Act, which would bolster local news by creating temporary tax credits for subscribers, advertisers and publishers."
NMA and America's Newspapers have been leading advocates for the JCPA. E&P reached out to both associations for comment about the JCPA's exclusion from the NDAA. They remained hopeful that Congress might muster the political will to reintroduce it.
America's Newspapers' CEO Dean Ridings said in a statement to E&P, "America's Newspapers appreciates the efforts of Senators Amy Klobuchar, John Kennedy and so many others to pass legislation that would enable the family and independently-owned newspapers to collectively negotiate for the value of their content. We hope that other members of Congress will reconsider this important legislation that would balance the playing field and compensate our members for the incredible work they do, which is important to virtually every community in the U.S."
NMA's Executive Vice President and General Counsel Danielle Coffey told E&P, "We remain grateful to our champions and will support them to get the JCPA over the finish line this Congress. The future of quality journalism and a functional democracy depends on it."
On Thursday, Senator Amy Klobuchar (D-Minnesota) provided E&P with the following statement: "Local journalism is essential to our communities and to our democracy, but one third of local papers that existed just 20 years ago will be shuttered by 2025. While the big tech platforms rake in a fortune using news content they don't pay for, local news is in crisis. Our bipartisan bill gives local news a chance to negotiate on a level playing field for fair compensation for its work. Continually allowing the big tech companies to dominate policy decisions in Washington is no longer a viable option when it comes to news compensation, consumer and privacy rights, or the online marketplace. We must get this done."