The world is a crazy place and, at times, seems to be spinning out of control. Breaking news — not of the good variety — seems to ping my phone constantly. Shootings, the January 6th hearings, the recession (coming or going), gas prices, the war in Ukraine, the climate and global warming, the political and cultural divisions in our country and on and on, continually filling my email inbox and my mind. And then there are the dire predictions about our industry — the decline of newsrooms, the death of print and dwindling trust in media. My husband keeps reminding me that our country has gone through difficult times in the past and that we'll weather through this, but it all feels like too much sometimes. My crystal ball has failed me. All I want to do is close my eyes, put my fingers in my ears and hum as loudly as possible.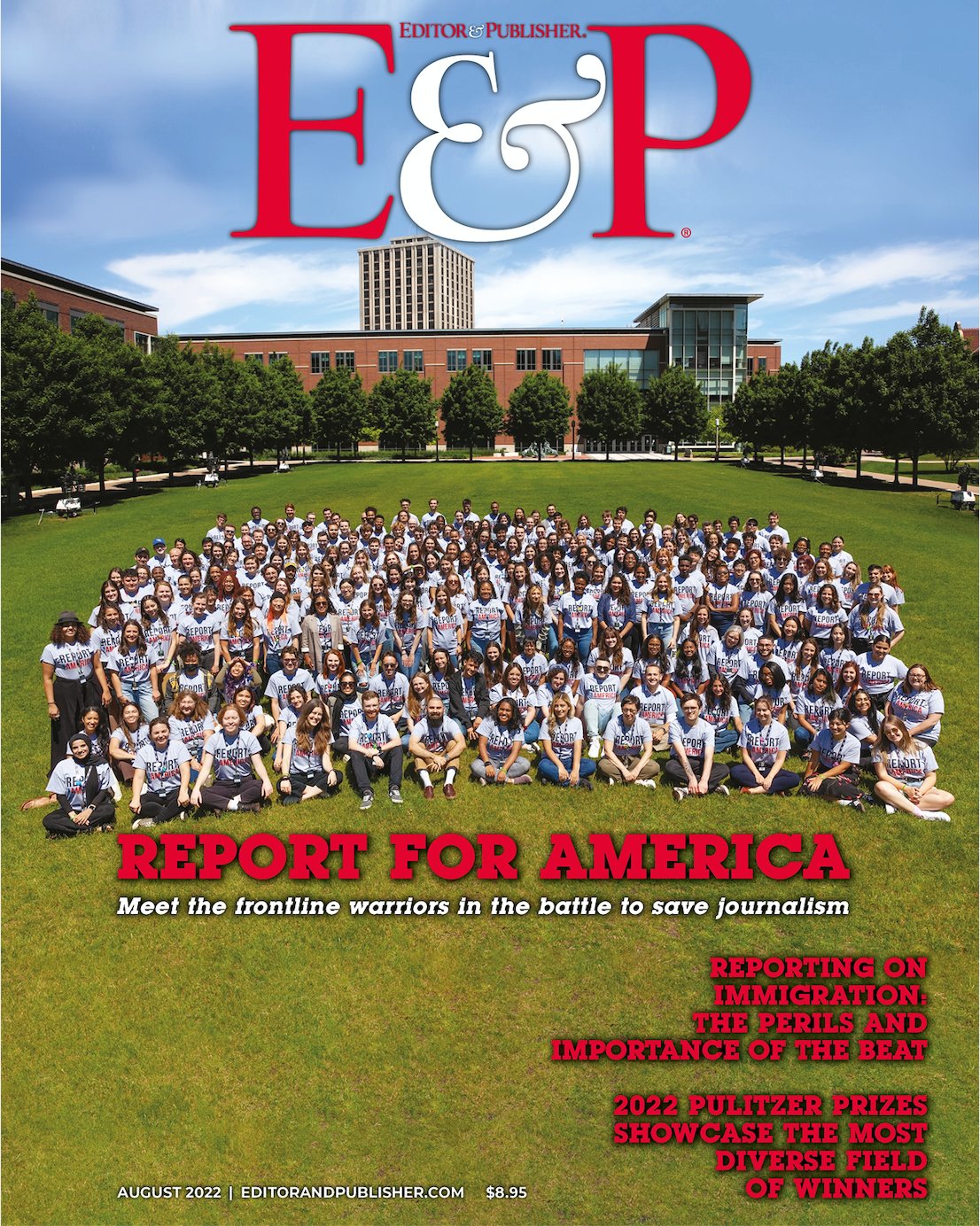 It was precisely for this reason that I chose our cover story this month. Nothing is more uplifting and celebratory than a big group of young journalists working together to save newsrooms — and, in turn, democracy. The fact that Report for America, a nonprofit initiative of The GroundTruth Project, has pulled together newsrooms and local philanthropy to fund this exciting work indicates that there is hope. And that hope is written on every face on our cover, every newsroom they serve and every under-served community they fill with stories that need to be told. You can say what you will about the decline in newsrooms and the death of print, but as long as there are people like the 250 Report for America corps members and the newsrooms that host them on our side, we can still win the battle.
The state of local news hasn't been a pretty picture for the past few years, but companies are still "fighting the good fight" and winning the battle for sustainability. CherryRoad Media, this month's company growth profile, is an excellent example of the importance of news in local communities. A technology company at its origin, CherryRoad began its own foray into media ownership in November 2020, when it acquired the Cook County News Herald in Grand Marais, Minnesota. In less than two years, CherryRoad Media has grown to operate 64 newspapers in 10 states — mostly in rural areas that were either under-served or not covered at all. One phrase stands out on the CherryRoad Media website: "Building Community Engagement Through the Power of News." And isn't that why we're all here?
So, I will continue to try to turn down the rhetoric and think pleasant thoughts when needed. During those times, I'll think about the large and growing number of Report for America corps members and the companies like CherryRoad Media — and many of you working day and night to build community through the power of news. And I will breathe a little easier and sleep better tonight knowing you're doing your thing to save democracy.
Robin Blinder is E&P's associate publisher and vice president of content. She has been with E&P for two years. She can be reached at robin@editorandpublisher.com.